Playa Grande, Costa Rica
March 8th – 14th, 2020
Just when you think you can't take it anymore, here's your chance to escape the winter doldrums! This retreat will give you everything you need.
In addition to the natural beauty and wonderful accommodations, I've chosen this location because it is only an hour away from the Liberia airport in Costa Rica. A driver will take you right from the airport to your doorstep at the RipJack Inn, a boutique hotel in a small beach town, just 75 meters from a beautiful white sand beach.
Playa Grande is a National Park that protects the Leatherback turtle with miles of pristine beaches along the Pacific Ocean. I looked long and hard to find a place that matched my desire for ease and hit the jackpot…or RipJackpot!
Besides one night out in the village, this retreat will include a morning snack before yoga, a yummy brunch after, and a fresh dinner following the afternoon relaxation yoga session. We'll have a live music night, and another to explore the 'night market.'
One day we'll take an afternoon catamaran sail to a pristine beach not accessible by car. There you'll have the opportunity to snorkel on your own, or go with a guide who will point out puffer fish, eel, turtles, coral reef, octopus, and more. You could kayak, or Stand Up Paddle board (SUP), or just stay on the beach or boat, and chill. We'll have an unlimited bar and lunch provided. We sail back to Playa Grande during a famous Costa Rican sunset, and maybe be lucky enough to see dolphins or whales playing along side us.
Other excursions and outings are available for the choosing. Or you may want to relax your afternoons away at one of the two beautiful pools, on the beach or in the village.
Each room comes equipped with a fridge and coffee maker so you can enjoy your beverages at any time, and also at the open air tree top restaurant and bar.
Invite your friends and family. Arrive ready to meet an awesome group of adventurers!
Optional Excursions Include:
CANOPY TOUR ZIP LINE IN COSTA RICA
Playa Grande vacation would not be complete without a zipline tour! This is one of our most popular tours and takes you on a scenic, adrenaline filled trip through nature. See the beach, waterfalls, and local flora and fauna as you?re moving from tree to tree.
ESTUARY TOUR LAS BAULAS NATIONAL MARINE PARK
The Playa Grande estuary tour is fun for the whole family! Climb aboard a local fisherman?s boat and spend a few hours exploring the wildlife in the Playa Grande.
WHAT IS AN ESTUARY?
The Playa Grande estuary is part of the Las Baulas National Marine Park. Here the Rio Mata Palo empties out into the Pacific Ocean creating what is know as brackish water. The Playa Grande estuary is part fresh and part salt water making it an ideal home for many of the beautiful animal species in Costa Rica. The estuary is 6,745 hectors (25 square miles) of mangrove, spectacular!
HORSEBACK RIDING
Have you ever dreamed of horseback riding on the beach? Why not make that dream part of your Playa Grande Vacation? We have a few different horseback riding tours that you can choose from. The tour desk at the hotel will be happy to make arrangements for you.
HORSEBACK RIDING ON THE BEACH AT SUNSET
This tour leaves from Playa Brasalito which is about twenty minutes from the hotel. The tour company will pick you up so don?t worry about directions. Once you are in Playa Brasalito you begin your horseback riding tour with a guide who will take you along the white sand beaches of Playa Brasalito and Playa Conchal. The tour will end with your horse returning up the beach at sunset, truly a magical moment.
SPORT FISHING
Let us book you?re a charter with the most experienced captains on the coast. Guests can choose from either a full or half day sport fishing charter out in the open Pacific. Troll for sailfish, Yellow fin Tuna, Dorado, Snapper, and more! Playa Grande visitors must drive to Tamarindo and Playa Flamingo to catch the boats.
DIVING
Certified SCUBA divers can explore the depths of the Pacific by booking a charter to the famous Las Catalinas Islands or other popular sites. Swim among schools of colorful fish, spotted rays, and other invertebrates. Never been diving?not a problem! Local dive shops offer certification courses that include your very first open water dive.
VOLCANO RINCON DE LA VIEJA
Why not add a little hiking adventure to your dream Costa Rica Vacation? Playa Grande is just a short drive from one of Costa Rica?s active volcanos, Rincon de la Vieja. The volcano is located in Guanacaste in Rincon de la Vieja National Park.
The volcano offers a wide variety of terrain to explore, including:
Volcanic craters
Majestic waterfalls
Hot springs
Bubbling mud pools
Breathtaking views of the Nicoya Peninsula
TURTLE TOURS LAS BAULAS NATIONAL MARINE PARK
LAS BAULAS NATIONAL MARINE PARK
Las Baulas National Park was created in 1995 to protect the Leatherback Turtles. The National Marine Park protects the beaches of Playa Grande, Playa Ventanas, Playa Carbon, Playa Langosta and the Tamarindo Estuary. Playa Grande, Costa Rica is one of the few remaining nesting grounds for Leatherback Turtles (Las Baulas in Spanish). Las Baulas National Park offers Leatherback Turtle tours with experienced and qualified tour guides. Visitors are prohibited on the beach from sunset to sunrise without an official tour guide.
LEATHERBACK TURTLES (LAS BAULAS)
The Leatherback turtle is the oldest living reptile. Leatherback turtles are also the largest of their species weighing in at up to 2,000 pounds! Unlike other turtles, the Leatherback Turtles have a soft shell.
MASSAGES IN PLAYA GRANDE
What could be better than a massage at the end of the day? Although Playa Grande is small we have some of the best massage therapists on the gold coast of Costa Rica. The tour desk at hotel RipJack Inn can arrange a therapist to come directly to your hotel room or we can reserve a spot at the day spa in Playa Grande. If you would like to make a day out of it we can transport you to a spa up in the mountains with breathtaking ocean views. Playa Grande?s talented massage therapists offer a wide variety of services.
GUIDED SURF TRIPS
Avellanas, Marbella, Playa Negra, Little Hawaii, secret spots?Based on availability, book ahead!

Private guided surf trip for 3 to 45 people.
5 hour guided surf trip (5 hours from pick up time to return time with 2- 3 hours of surf time depending on destination) It will depend on what the waves are doing (swell and wind etc) as to where you are taken.
What's Included:
6 Nights Accommodations in rooms which include refrigerators, coffee makers and air conditioners
Round trip Transportation to and from Liberia Airport
Beginning with lunch the first day, a morning snack, brunch and dinner each following day, in the cozy restaurant sitting in the treetops (except for one dinner out in the village). We'll have a diverse menu of fresh local seafood and meats, as well as tasty vegetarian options. Our executive chef is also happy to work with us to meet the needs of the group and any dietary restrictions (so please let Sabré know about yours).
Sunset Sailing and Snorkel Trip (gratuity included)
2 optional yoga sessions per day, in one of two yoga shalas, amidst the palms and bamboo gardens. All yoga props are included. We will have a longer, fuller session in the morning, then a shorter, mellow session in the late afternoon, before dinner.
Use of the two pools and easy access to the beaches
A night of live entertainment
What's NOT included?
Airfare
Spa services and optional excursions
One dinner for our night in the village
Alcoholic beverages
Gratuities for drivers, guides and the staff at RipJack Inn
Accommodations:
Standard Room: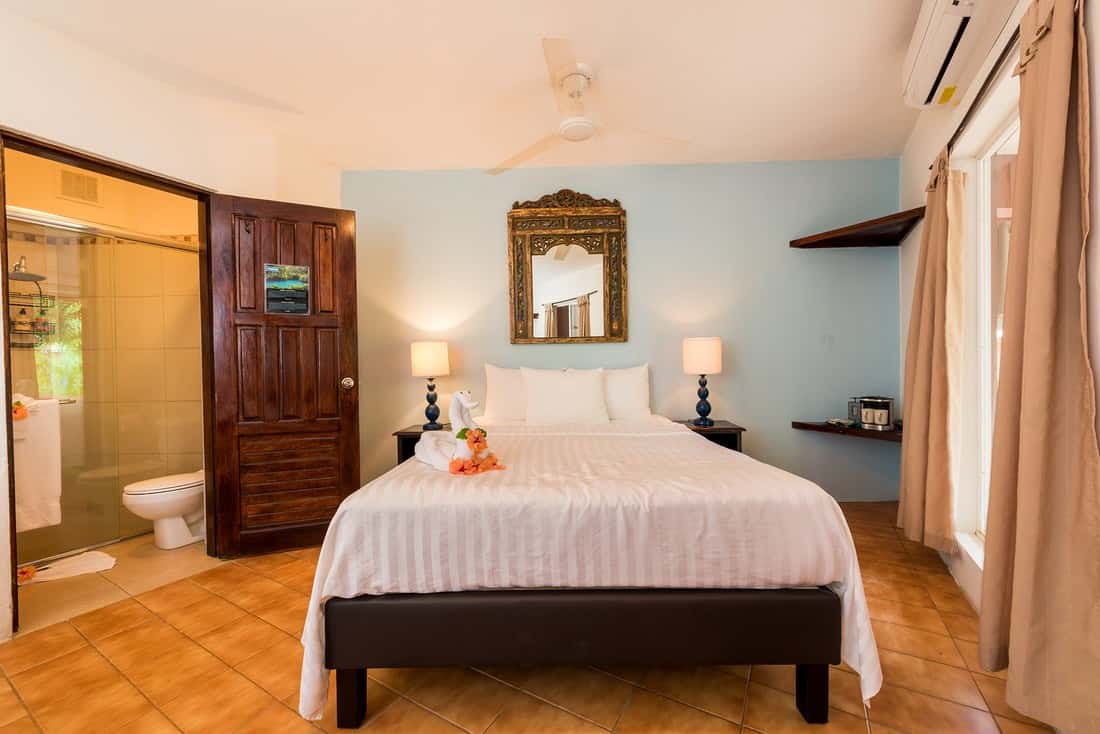 RipJack Inn has six standard hotel rooms located in the main building. The hotel rooms are located under the restaurant so they are our most budget friendly rooms due to some noise. They are each tastefully and individually decorated. Each hotel room has a small outdoor patio and a hammock hanging out front. The hotel rooms have one queen and one single (twin) bed.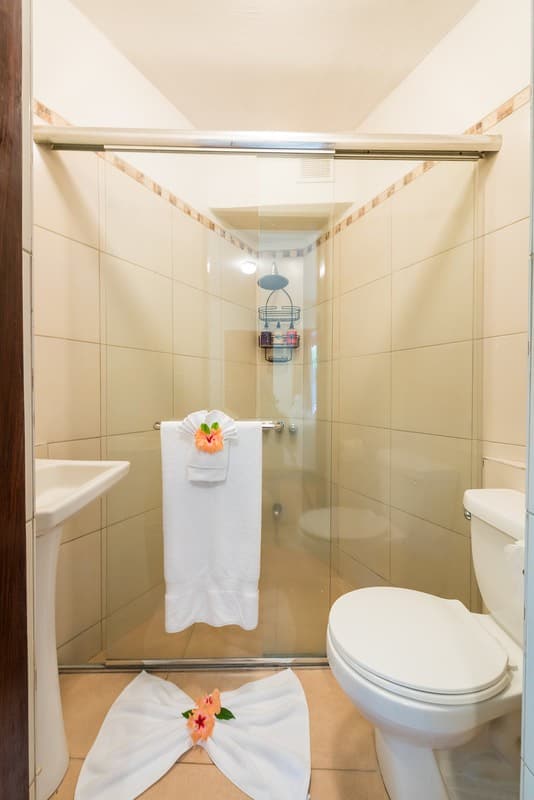 Amenities: Air conditioning, Ceiling fans, Hot water, Private baths, Coffee maker, In-room safe, Daily housekeeping and toiletries.
Single: $1870 / $600 Non-refundable deposit to hold space *
Double: $1545 pp / $500 Non-refundable deposit to hold space
************************************************************************
Deluxe Rooms: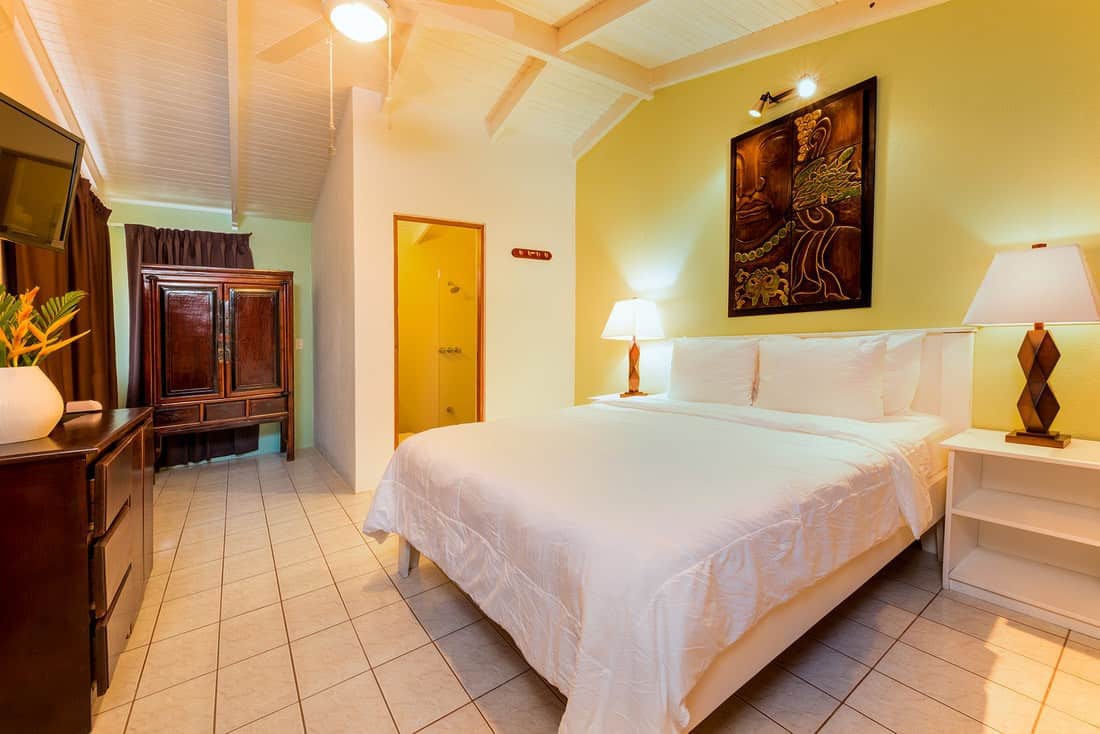 The deluxe rooms are located in a stand alone building that share an outdoor patio space. This would be ideal for someone wanting rooms side by side. They are each tastefully and individually decorated.
Amenities: Air conditioning, Ceiling fans, Hot water, Private baths, Coffee maker, In-room safe, Daily housekeeping and toiletries.
Choices are:
Deluxe King Room (1 King bed)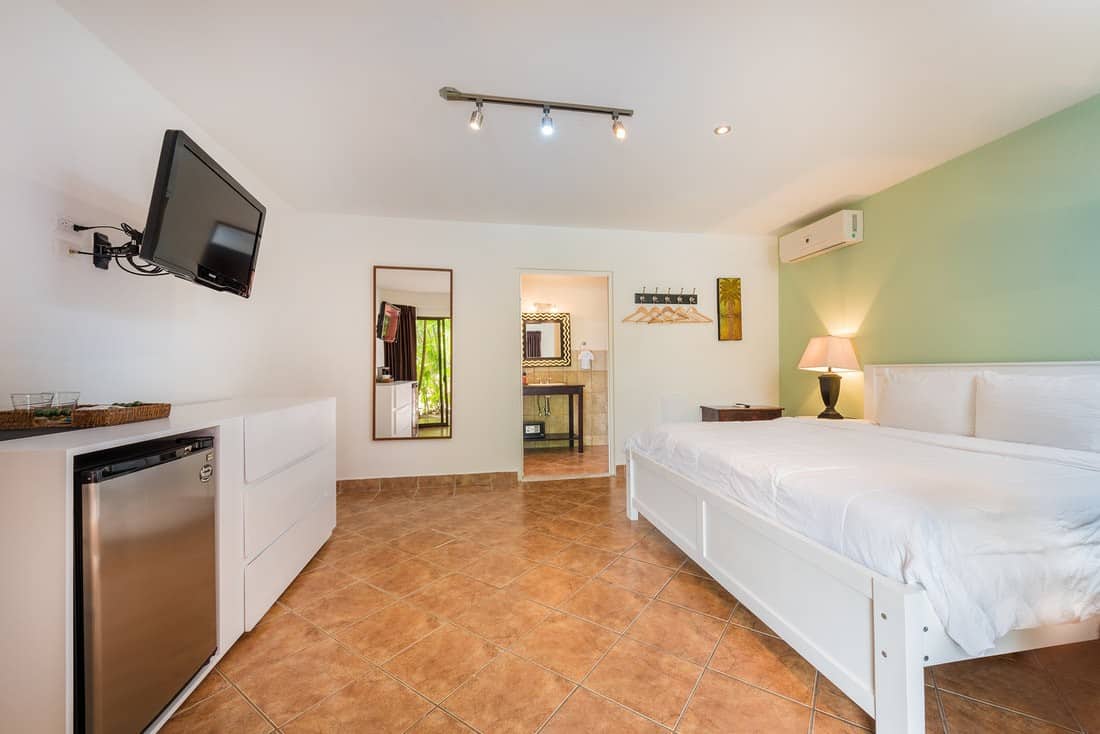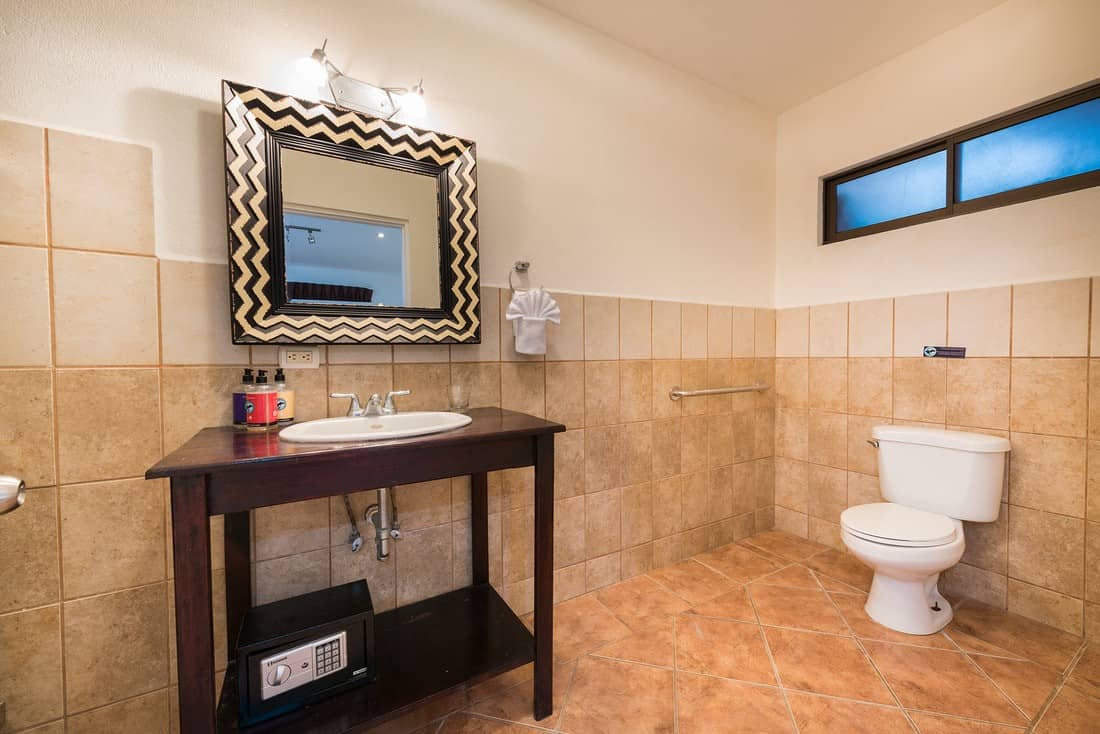 Deluxe Queen Room (1 Queen bed)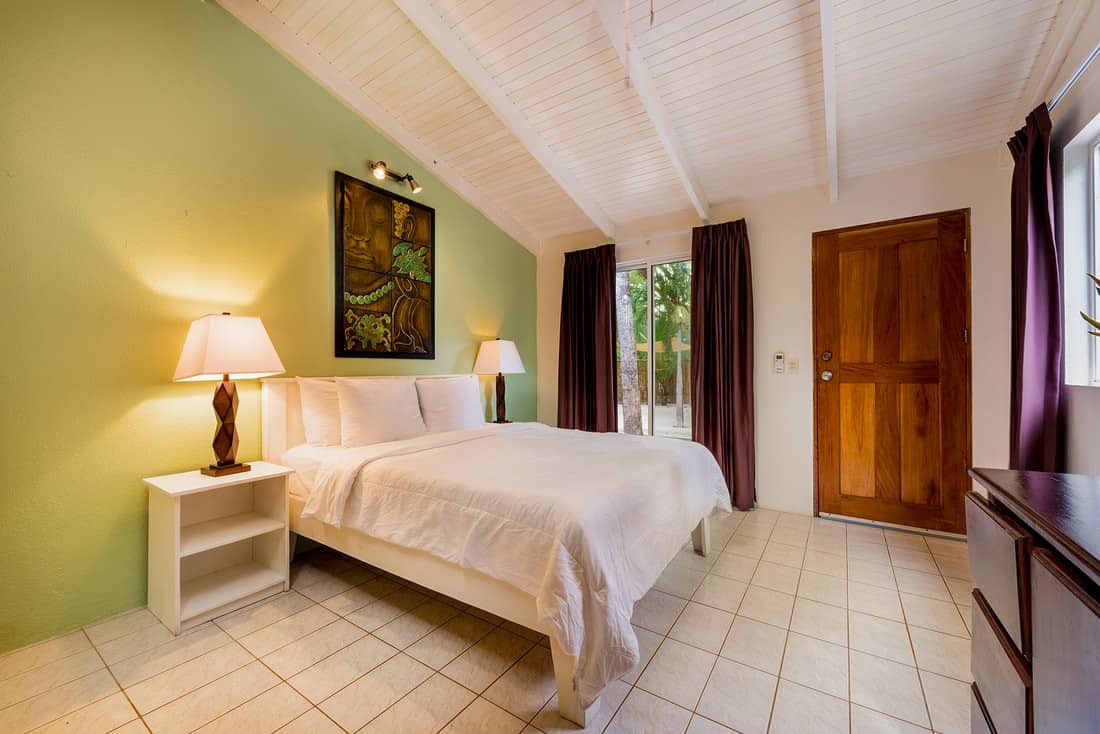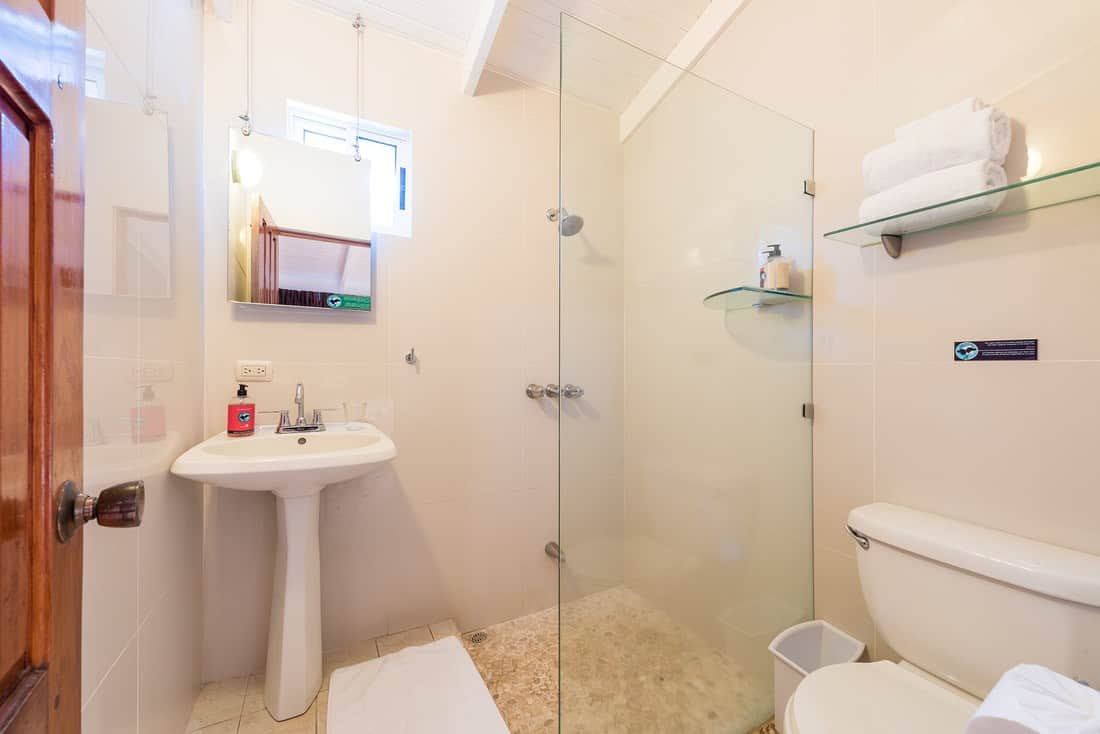 Deluxe Double Room (1 Queen and one double bed)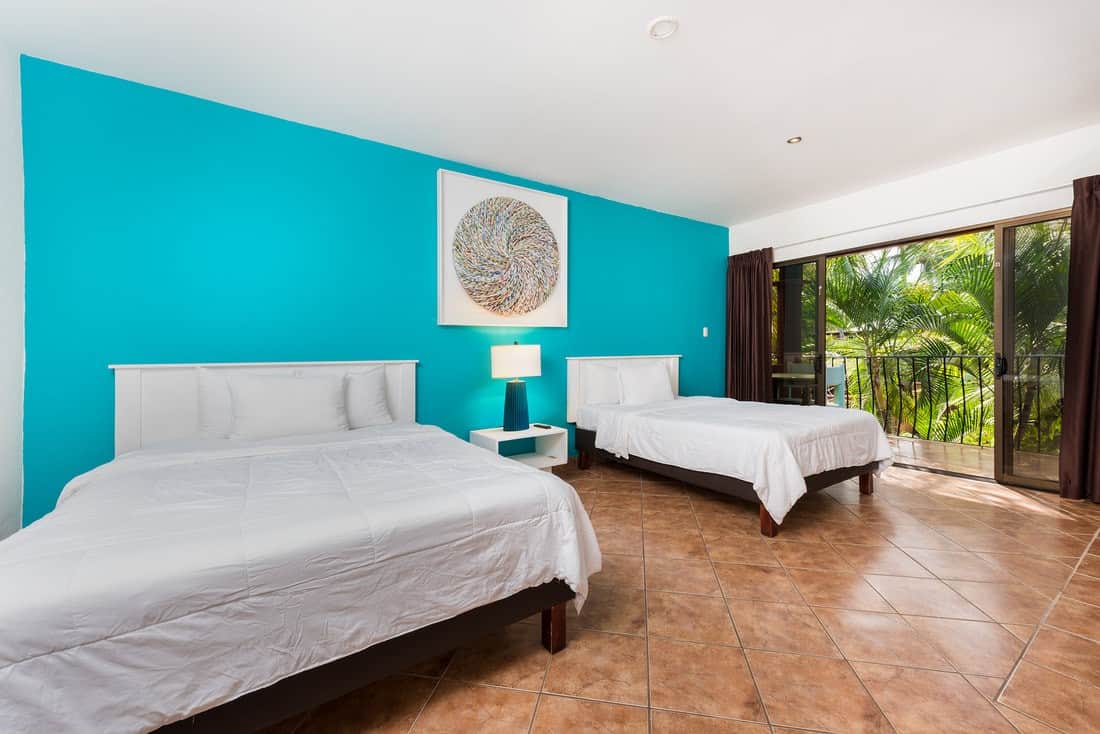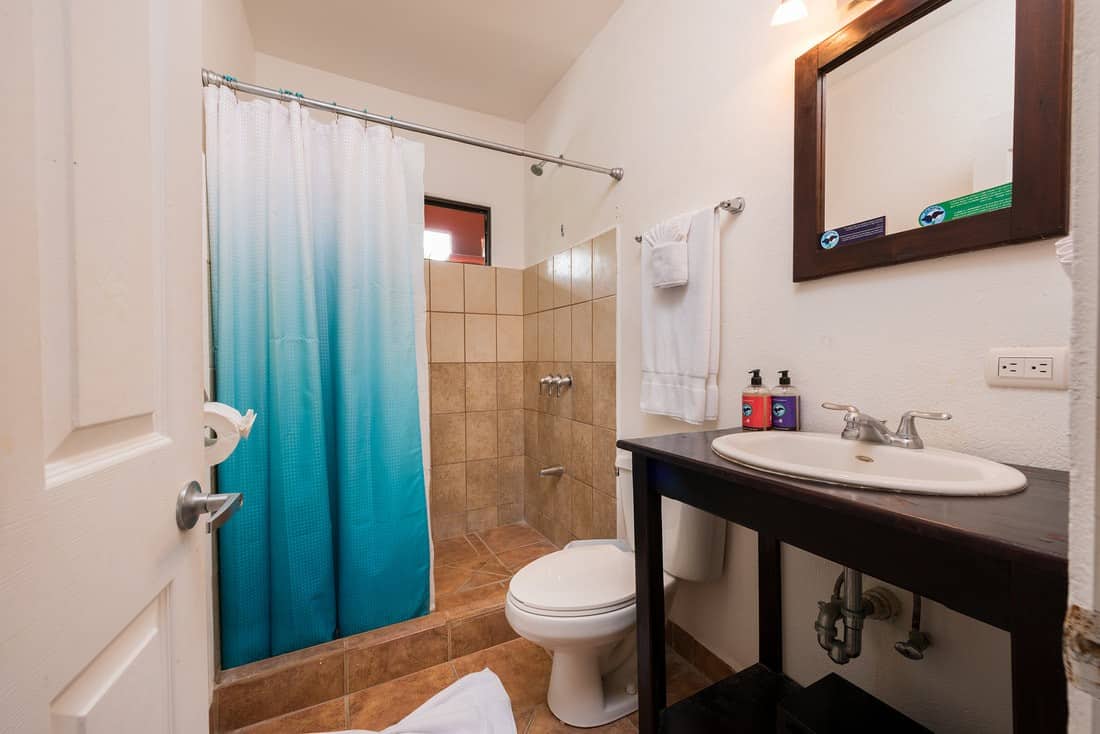 Single: $2110 / $600 Non-refundable deposit to hold space
Double: $1665 pp / $500 Non-refundable deposit to hold space
************************************************************************
Bungalow:
RipJack Inn has one bungalow on our property which makes is a very special hotel room! The bungalow has two queen size beds in a room separated by French doors. The front room comes with a comfy couch. The bathroom has an open spa type shower with smooth river rocks on the floor to massage your feet after a day at the beach. The bungalow has beautiful Costa Rican hardwood throughout.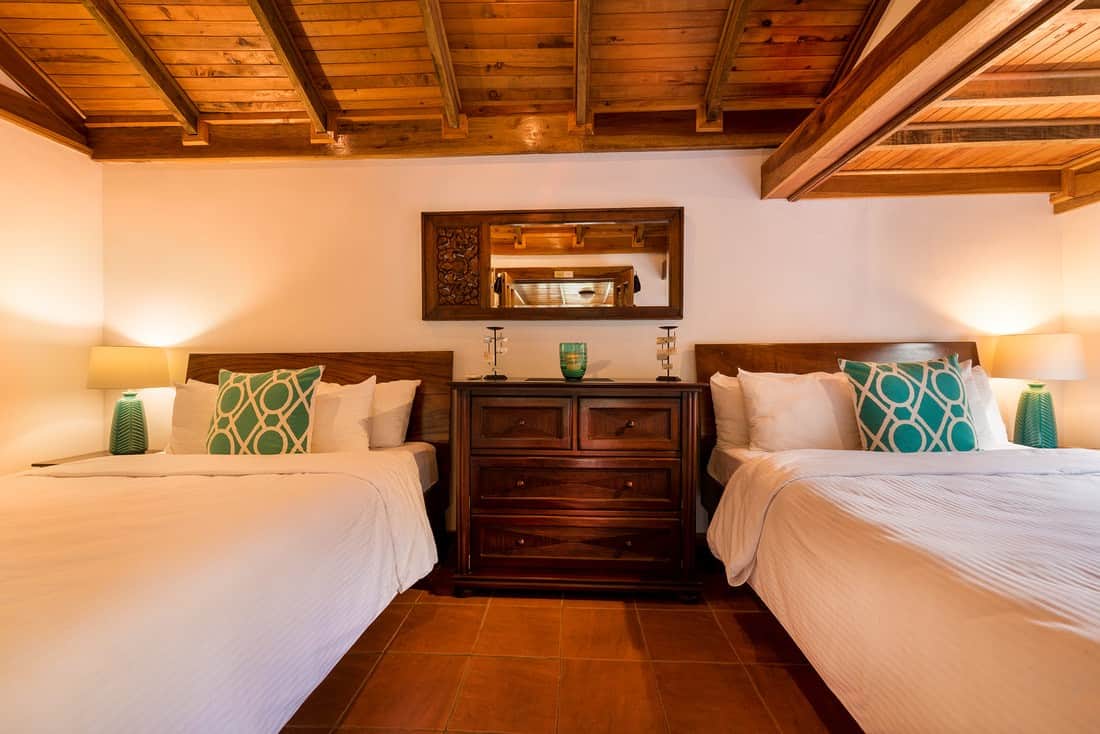 Amenities: Separate living and bedroom, 32# Flat screen TV, Mini fridge, Air conditioning, Ceiling fans, Coffee maker, In-room safe, Daily housekeeping and toiletries, Outdoor seating.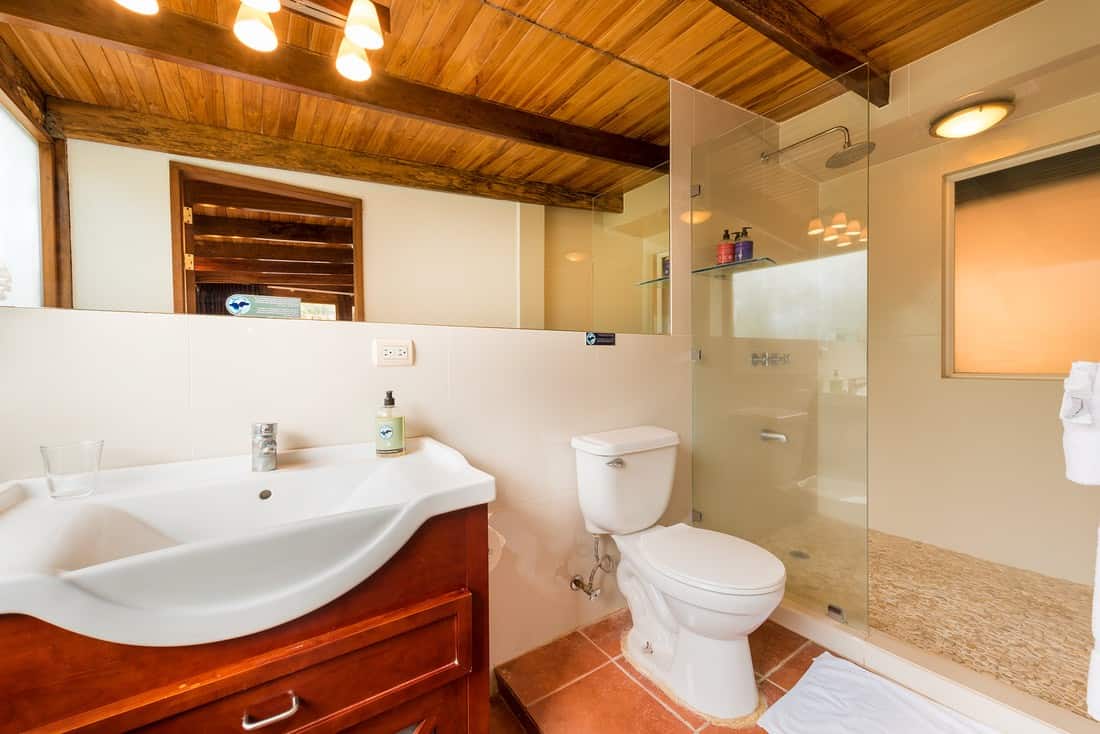 The Bungalow has been reserved.
************************************************************************
Suites: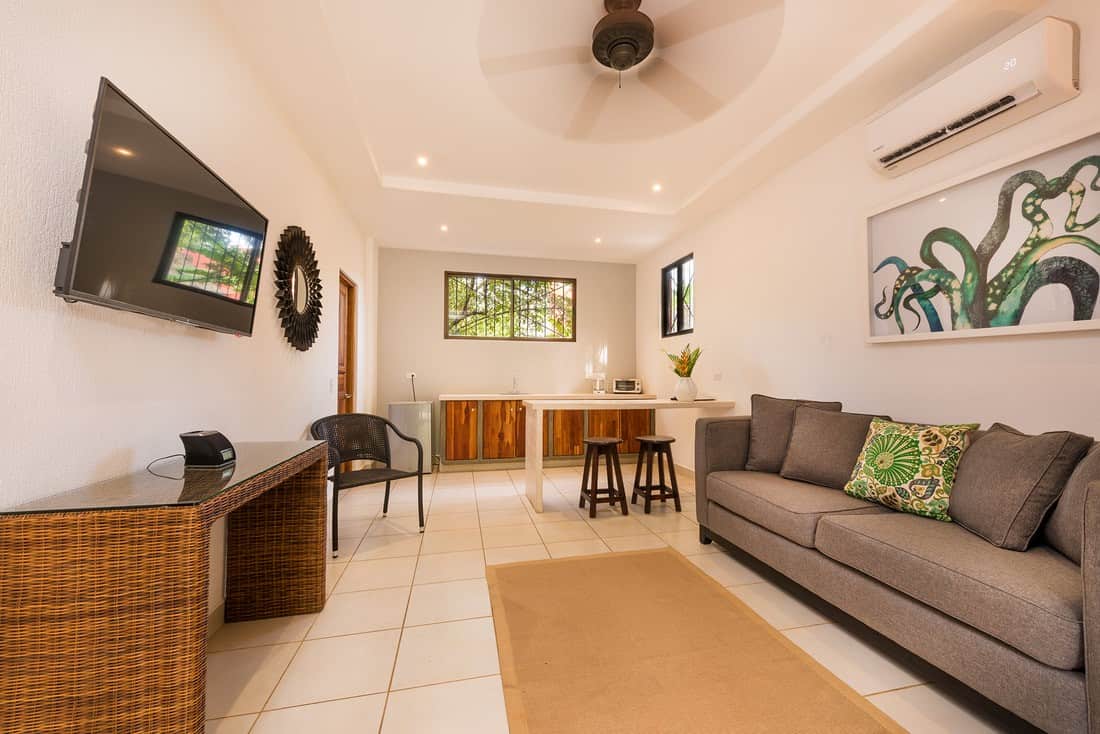 RipJack Inn has two large suites at the the hotel. Both have one large bedroom, and a large living room with kitchenette. Each of the two rooms have a flat screen TV, air conditioning unit and ceiling fan. These hotel suites were designed with families or friends in mind, who like to prepare snacks in the room. Each suite has an outdoor patio that overlooks one of our two swimming pools.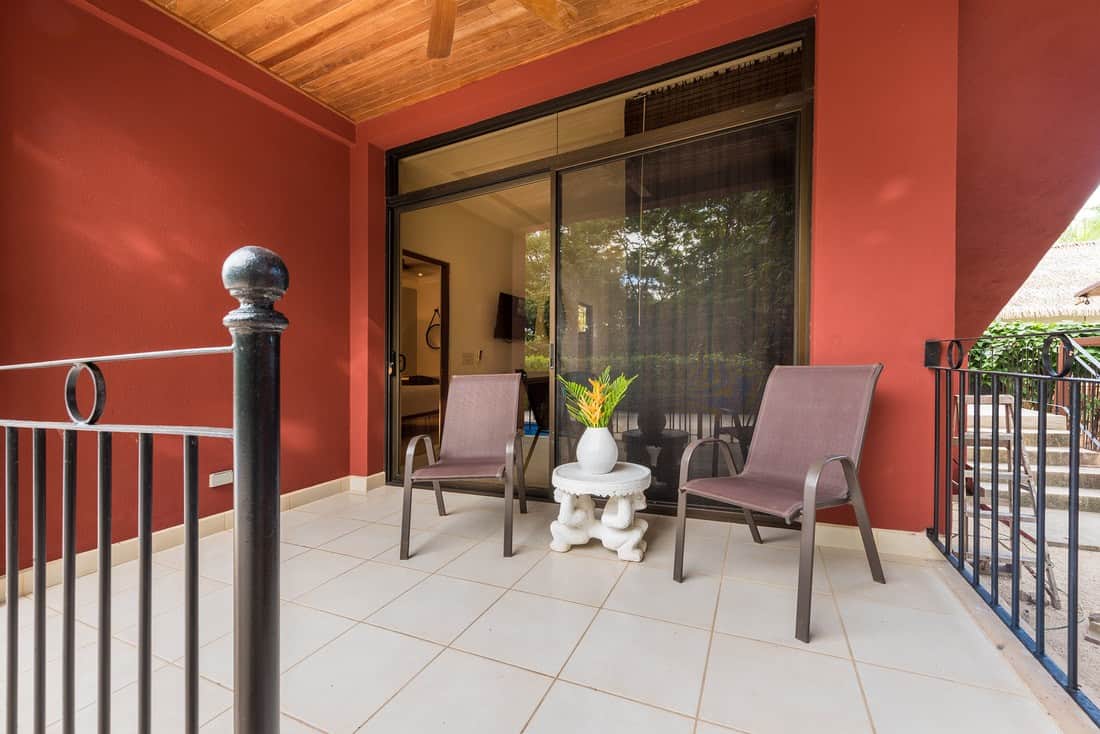 Amenities: Suite 1 has two king size beds, Suite 2 has one king and two single beds, Two flat screen TV?s, Mini fridge, Toaster oven, dishes and utensils, Air conditioning, Ceiling fans, Coffee maker, In-room safe, Outdoor patio and lounge chairs, Pool side room.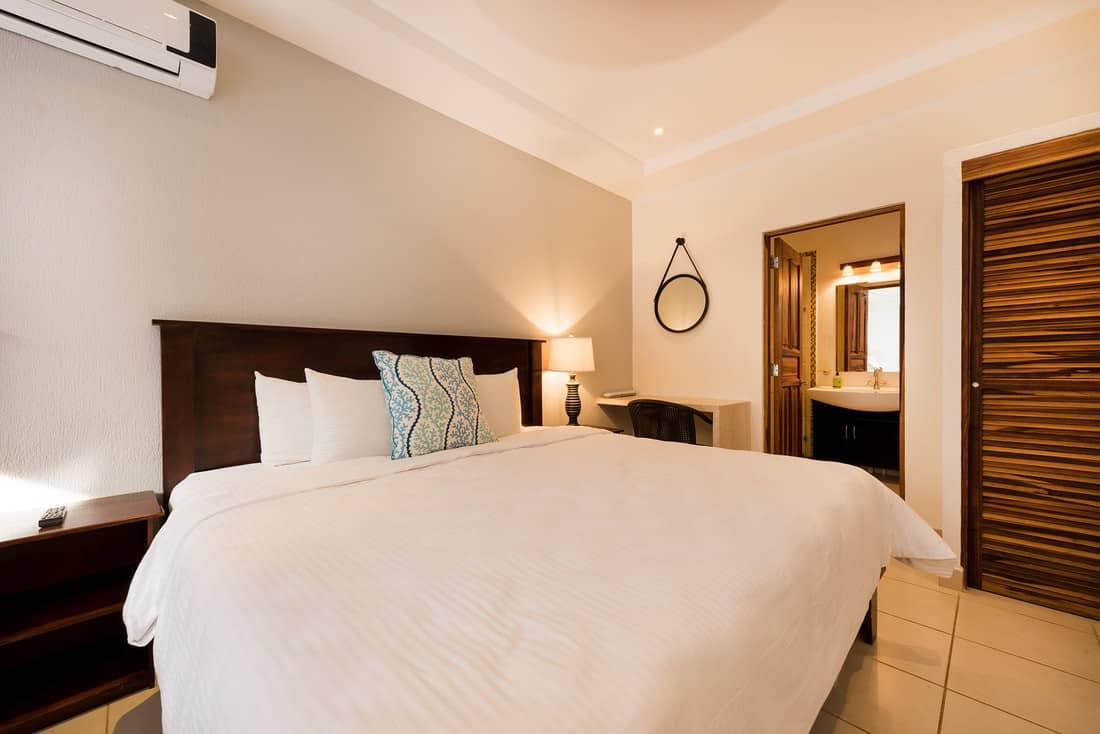 Single: $2755 / $600 Non-refundable deposit to hold space


Double: $1985 pp / $500 Non-refundable deposit to hold space
**********************************************************************
Payment:
Full Payments are due on or before January 1, 2020. Any registrations made after this date are to be paid in full.
At the time of registration, please let me know how you plan to pay your balance. I'm open to payment plans and can help with this if you need suggestions.
Send checks to: Sabré Page 4500 Seneca St. Unit 3 Fort Collins, CO 80526
For bank transfer options, PayPal payments, or credit card payments, or Venmo payments please contact Sabré at sabre@fjyr.life or call (970)-581-3889
Cancellation Policy:
Cancellations made on or before 10/15/19 receive 75% of amount paid above deposit.
Cancellations made on or before 12/31/19 receive 50% of amount paid above deposit.
Cancellations made after 12/31/19 are non-refundable
Registration Form is at the bottom of this page.
Disclaimer:
My goal is to provide a structure in which every participant may experience the fullest possibilities of experience. As such, I will use my discretion and reserve the right to turn away any individual(s) whom I feel might be a threat to this goal.
About the dates and travel:
Though I normally hold retreats Saturday to Saturday, RipJack Inn had no openings that worked for a Saturday arrival. I understand that often there are fewer flights offered on other days of the week, and/or they might be more expensive. To that end, I decided to make this a 6-day retreat so that you could have the opportunity to travel home or elsewhere on a Saturday. In addition, the prices here reflect a discounted rate, so that you may choose to arrive Saturday, March 7, and not feel that you are paying 'extra' to stay somewhere else that night.
Personally, I believe arriving a day early can be very enjoyable as it allows you to settle in and relax a bit from a day of travel. The RipJack Inn can offer rooms to those interested (based upon availability), and refer two nearby hotels which are quite close. Air bnb is another option, and Costa Rica has plentiful hostels.
Another good option is to spend Saturday night in Tamarindo, which offers easy shuttles from Liberia airport, and will show you a different side of Costa Rica ~ a more lively nightlife, more cafes and restaurants, and more hotels, than our quieter retreat in Playa Grande. It is also quite easy to get a ride between Tamarindo and Playa Grande, which is a 25-minute shuttle ride.
As we move forward, I'll be providing more details about transportation and such, if there is interest. Please let me know.
For flights, we all know the aviation world is in a constant state of flux and change. I expect flight options to increase as the year moves on. You might find a direct flight to Liberia (Southwest offers some) or go through Houston or Dallas, etc. You'll sometimes find cheaper flights to the capital, San Jose (SJO) but then you'll need a domestic flight to Liberia (LIR). I like to use SkyScanner.com for the latest in cheaper flights.
Remember to check your passport. Make sure it is up to date and with time to spare!
Please feel free to email me with any questions sabre@fjyr.life
Or call 970-581-3889 for a real, live person!